<< SMILE AT A FIRE HYDRANT. //
An exploratory mind-space-community-place & urban adventure project.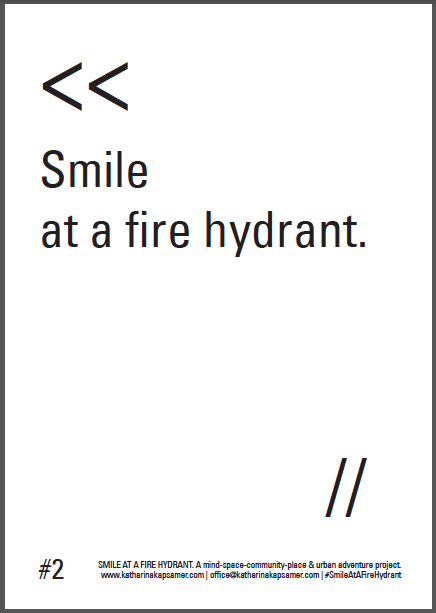 SMILE AT A FIRE HYDRANT is an imagination & action project. Short instructions are written, printed on posters and set up in public space. Their purpose is to sabotage and infiltrate daily routines and conventions and to create SPACE for us: to look more closely, imagine new possibilities in our heads and in the streets and places we walk in and to expand them with small actions or thought experiments. // What happens when we become travelers and explorers in our own cities, neighborhoods and communities?
TALK TO A FIRE HYDRANT is a sharing & discourse oriented project. Its goal is to spark and host discussions about public space and foster new findings for concrete ideas developed by practitioners of all kinds as well as individuals in their neighborhoods. // What is it that we need to be able to connect, create, share and explore together? 
BUILD A FIRE HYDRANT is a collaboration & community driven project. Using instructions and discussions about public space as a starting point for processes fueled by people from all kinds of backgrounds to co-create projects about public space as social space and the people in it, set up in public space as a transdisciplinary collaboration project by artists, experts and citizens. // How can art be used as a means to create more spaces and situations to foster our needs in a city, neighborhood or community?

​
Want to see more of this in YOUR city? Wanna submit an instruction? Share a street moment? Want to get together for collaboration in urban and community work, share ideas and discuss present day and future urban issues?
​
Send a message to Diese E-Mail-Adresse ist vor Spambots geschützt! Zur Anzeige muss JavaScript eingeschaltet sein!
Insta: @serenkipity #smileatafirehydrant